The beach waits quiet in the morning, the valley still in the shadow of the surrounding mountains. By late morning, swimmers crawl through the shallow waves or sunbathe on the stone beach. At lunch the aromas of Turkish cooking, olive oil frying tomato and onion for hot dishes or gozleme sizzling on the griddle, call to the people lounging on the beach. Fishing boats pass in and out of the bay picking up and dropping off tourists to see other more hidden destinations.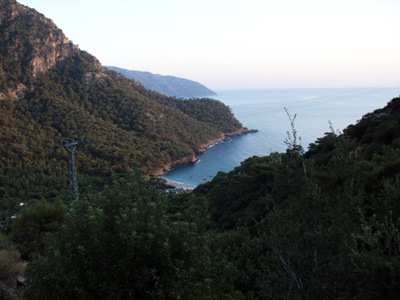 With the approach of evening the beach and slopes again lay in the shade of the mountain. People return to their valley accomodation or up the mountain trails to their bugalow views of the bay below. By night the lack of light allows the stars to illuminate the sky and makes the mountain a black fresco across the horizon. The lucky and patient may even see a shooting star. This is a day at Kabak Bay.
The Mediterranean coast of Turkey has long been a popular summer destination for sun, swimming and relaxation. Turqouise, clear waters served up with delicious Turkish cuisine are the trademarks of these holidays which cause tourists to return again and again, always searching for a new beach and glassy waters. Just thirty minutes drive from the better-known Oludeniz Lagoon and Belcekiz Beach, travelers can enjoy the more secluded and mountain-ringed beach of Kabak Bay.
Despite the closeness to these beaches, which have many pensions, hotels, restaurants and bars, Kabak Bay still remains a little visited area. The reason for this may be the high-mountain roads which wind tight around cliff faces. It may also be the relative lack of night-life, five-star accomodation and food. Whatever the reason, this makes Kabak Bay a better choice for those searching for a less frantic holiday in natural surroundings.